Renzi faces key test as Italy elects new mayors
Comments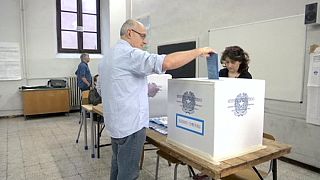 Millions of Italians go to the polls today to choose mayors in the country's largest cities.
It's the second and final round of voting in a contest that will test centre-left Prime Minister Matteo Renzi's popularity and could also hand control of the capital Rome to the anti-establishment 5-Star Movement (M5S).
Its candidate 37-year-old lawyer Virginia Raggi would become the first woman to lead the capital if she beats her closest rival, the Democratic Party's Roberto Giachetti. He could fall victim to the fallout from an expenses scandal which saw the last mayor, who was also from the centre-left party, quit office over an expenses scandal.
But the outcomes in other run-offs in Italy's biggest cities are being seen as too close to call. A lot of attention will fall on the Democratic Party's traditional stronghold of Turin as just under a fifth of the total electorate cast their vote in the first ballot.
Milan is the most politically significant for Prime Minister Renzi where he has backed Giuseppe Sala, head of the 2015 Expo World Fair.