Brussels Central Station evacuated amid heightened security fears
Comments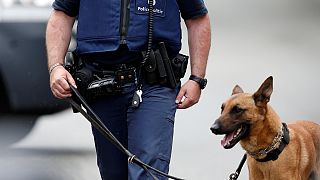 Brussels central train station was temporarily evacuated on Sunday (June 19) due to a suspicious suitcase amid heightened security fears in the Belgian capital after a huge anti-terror operation led to three men being charged with terrorism offences.
The suitcase later turned out to be a false alarm but shows how Belgium is on high alert as the Euro 2016 soccer tournament is underway in neighbouring France. The incident comes three months after Islamist bombers killed 32 people in Brussels and attacks in Paris in November left 130 people dead.
Belgian police searched 40 houses and 152 garage lockups between Friday night and Saturday, arresting 12 people amid reports of possible attacks targeting soccer fans watching the matches in Brussels. They later released nine after questioning.
The three Belgian men charged with "having attempted to commit a terrorist murder and for participation in the activities of a terrorist group" were identified by prosecutors only as 27-year-old Samir C., 40-year-old Moustapha B., and 29-year-old Jawad B.
Belgian media reported those charged had links to the men prosecutors believe carried out the Brussels twin bombings in March, brothers Ibrahim ('Brahim') and Khalid El Bakraoui and Najim Laachraoui.
Without citing sources, RTBF said police listened to phone conversations between the three men in which they said they planned attacks in Brussels over the weekend.
Source: Reuters