Putin slams Russian athletes Rio Olympics doping ban
Comments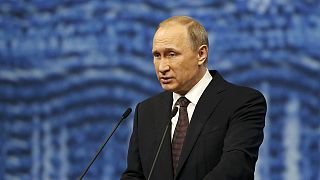 Vladimir Putin has condemned the decision by the world athletics' governing body to uphold a ban on Russia for systematic doping, thereby excluding its track and field competitors from this summer's Rio Olympics.
"Of course, it is unfair," Putin told editors from leading international news agencies at a supper on the sidelines of the St. Petersburg International Economic Forum.
Denouncing the sanction as collective punishment, he said: "There are common acceptable principles of rights, one of which is that responsibility should be personalised."
He went on: "If someone in your family has committed an offence, is it fair to prosecute all the family members … the people who have no relation to the violations – why should they suffer for others?"
Putin not going to accept ban of Russian track and field from Rio Olympics without a fight https://t.co/rdLYBOoXwT by @YahooSports

— Yahoo News (@YahooNews) 17 juin 2016
Putin is now seeking intervention from the International Olympic Committee despite its Vice President John Coates slamming Russia's anti-doping and athletics authorities as "rotten to the core".
Russia, a superpower of track and field, had lobbied furiously to avert the prospect of a Summer Olympics athletics programme taking place without its athletes, and argued that it was taking all the steps required of it to dispel charges of state-sponsored drug abuse.
But on Friday, IAAF boss Sebastian Coe acknowledged that while some progress had been made by the Russians, it was not enough.
'RusAF has not met reinstatement conditions' – IAAF Council Meeting, Viennahttps://t.co/a9pzzqny0Q

— IAAF (@iaaforg) 17 juin 2016
Russian former drugs cheat Yulia Stepanova, whose whistle blowing revelations helped expose the massive doping problem in her country, welcomed the ongoing ban.
"It is good. It is good news for me," said the 800-metres runner, who went into hiding after her bombshell exposé.
For while no athlete is set to compete in Rio under a Russian flag, a door has been left open for those who can now prove they are clean to take part as neutral competitors.