Brazil's interim president dismisses corruption allegations against him
Comments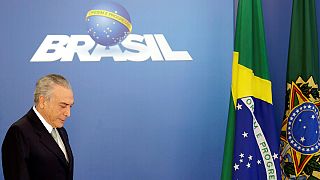 Brazil's interim president Michel Temer has dismissed graft allegations against him as dishonest and reckless.
Temer said it was "irresponsible, ridiculous, mendacious and criminal" to suggest, as former Petrobras executive Sergio Machado did in plea bargain testimony, that he had sought campaign funds for his party from a graft scheme at the state-run oil company.
The testimony, made public by the Supreme Court on Wednesday, was the first direct link between Temer and the sweeping corruption probe that has thrown Brazil's politics into chaos and deepened its worst recession in decades.
"We will not tolerate affirmations of that nature," Temer said in a hastily scheduled public address. "A foolish suggestion like that can confound the government's work. But I want to affirm that nothing will hinder our desire, mission and aim of doing what the president must do right now."
The latest trouble comes as Brazil's tourism minister becomes the third minister to quit the country's month-old interim government.
He was one of about two dozen officials implicated in a corruption scheme at state oil company Pertobras.
President Dilma Rouseff has accused Temer and his party of mounting an impeachment process against her to distract from what they allege are their own roles in the corruption scandal.