Russia and Ukraine arrange a second prisoner swap
Comments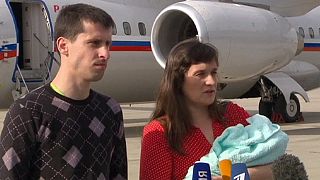 Russia and Ukraine have swapped prisoners for the second time in less than a month.
Kyiv has released and handed over to the Russian authorities two Ukrainian journalists who were imprisoned on charges of separatist activities in southern Ukraine. Elena Glishchinskaya and Vitaly Didenko.
Speaking for both of them on landing at Moscow airport Elena Glishchinskaya denied the charges:
"We were arrested (by the Ukrainian government) as activists of the People's Council of Bessarabia.
It's a national-cultural movement that has almost nothing to do with politics, but the authorities decided that it doesn't correspond with the (government's) general policy line, so we fell victims to the so called hunt on separatists."
In return, Russian President Vladimir Putin pardoned two jailed Ukrainians in Russia for espionage and terrorist activities. Seventy-three year-old Yuri Soloshenko and Gennardy Afanasyev, who have likewise denied the charges against them.
They were received by President Petro Poroshenko when they arrive back in Ukraine.
"We will continue our efforts to free others such as Olexander Kolchenko and Oleg Sentsov and those who are detained in the occupied territories or in the territory of the Russian Federation. They will return home. It is written in the Minsk agreements," said President Poroshenko.
There are still said to be more than 25 Ukrainian citizens detained in Russian prisons. This new exchange takes place less than a month after the release of the pilot and current parliamentarian, Nadiya Savchenko.