One killed in road bridge collapse in Bavaria
Comments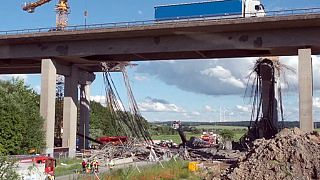 At least one construction worker has been confirmed dead after a road bridge which was undergoing renovation collapsed in central Germany. Six more are said to be seriously injured.
German bridge collapse leaves one worker dead and six seriously injured https://t.co/8V11U63sQ5pic.twitter.com/9TSMg4YQhn

— Daily Mirror (@DailyMirror) June 15, 2016
The bridge section plus scaffolding fell 20 metres onto a road below. The accident happened along Germany's A7 highway near the town of Schweinfurt in northern Bavaria.
There are thought to have been around 20 workers on the site at the time. A police spokesperson said said they were still trying to confirm that no one else was buried in the under the wreckage.
The bridge was originally built in 1965.