Britain's EU referendum rivals clash on the Thames
Comments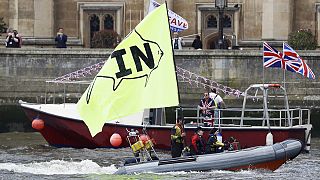 Britain's EU referendum campaign has taken a bizarre twist after rivals from both the Remain and Leave camps took their increasingly vocal 'War of Words', to the waves.
In what's already been branded the 'Battle of the Brexit', In and Out supporters clashed on London's river Thames.
Passing Parliament one Leave trawler reportedly drenched a Remain vessel. The two fleets had set sail to campaign about EU fishing policy.
'Fishing For Leave' Skipper Aaron Brown said: "Sixty percent of Britain's quota is now in foreign hands and 60 percent of the British fishing fleet is being scrapped. So what we are here to do today is to take the fishing industry story to the capital and say we are the perfect example of what is going wrong with the European Union. We need to get out and we need to be free to chart our own destiny"
The stunt on London's waterways came as Britain's finance minister, Chancellor George Osborne, warned the UK faced a near 38 billion euro black hole in its finances if it leaves the EU.
"Let's take the mid range of what the impeccably independent Institute for Fiscal Studies says there would be in terms of a black hole in the public finances. The mid range, not the worst case, the mid range, is a 30 billion pound hole in the public finances. This would be a permanent and structural hole. We couldn't just borrow more money to tide ourselves over," Osbourne said.
But the clock appears to be ticking if the Remain campaign is to turn things around. Several latest polls give Leave a slight edge heading into next week's June 23 referendum.