Greece's Finance Minister warns Europe needs to listen to its people
Comments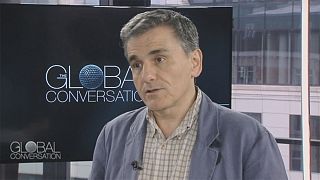 Although Greece is still far from getting out of its debt crisis EU officials and ministers admit it is making a big effort. This means adopting painful and unpopular reforms in return for bailout money. Could these new sacrifices and the new loan help the weak Greek economy to recover and return to growth? To discuss this but also the big challenges in Europe, euronews is joined by the Greek finance minister Euclid Tsakalotos who came in Brussels to speak to the Brussels Economic Forum.
You have to listen to people. People are saying 'I want a say in matters that affect my life and if Europe cannot do that, I am going to become anti-European'.
STRUGGLING TO RECOVER
Efi Koutsokosta/ Euronews:
"It has been one year since the dramatic moments that the Greek government and you personally as finance minister went through before you signed the bailout agreement and avoided a 'Grexit'. So, one year later, are you confident that this program could finally work for Greece?
Euclid Tsakalotos/ Greek Finance Minister:
"Well, I think it's been a very difficult year. We had a roadmap, how we were going to get out of the crisis which included finishing the recapitalization of the banks to put them on a sounder footing. It included finishing the first review and getting something on debt. And I think on the 24th of May we had a decision which lead to the finalization of the first review and the disbursement but also a good deal on debt".
euronews:
"You spoke about the debt relief and this decision made very recently. Are you satisfied with this? Because Greece voted very painful reforms and laws and of course expected something for that, but finally it's not something that big".
Euclid Tsakalotos:
"I think it's an important deal in the following sense. That it actually for the first time defines the "if necessary" clause. Up to now, we've had decisions that said that Eurogroup stands ready to do something if it's necessary. Now, that "if necessary" is defined. It gives a clear runway that after 2018 Greece's gross financing needs won't be for many years more than 15%. So, all the measures will be taken to ensure that objective condition. So, it's not a matter of the German, the Spanish or the French or the Greek finance minister waking up one morning and deciding, do we need to do something? What needs to be done is now objectively given. And I think that's a very big step forward".
euronews:
"So, there was a survey by the Athens Chamber of Commerce and Industry saying that 69% of Greeks will not be able to pay their taxes this year and 89% believe that the recent measures raising taxes will lead to a deeper recession. So, why did you make this choice?"
Euclid Tsakalotos:
"Greek people now have to expect that as the program was very frontloaded, we finish with the fiscal measures and now we turn to more of a development agenda which will be helped by going into the ECB's quantitative easing, it will be helped by investors coming back. It needs a lot of effort. It's not over yet. But I think that although people are pessimistic as you're indicating from the polls, we are at the bottom. If you asked me in September when would be the worst situation for the present government it would be the closing of the first review, because it's a very frontloaded program. So, it's not surprising that some people are so disappointed. They are right to be disappointed in some sense. I mean, this crisis has being going on for five, six, seven years".
euronews:
"Yes. And you promised them a lot. So do you think that now people still believe in you? Do they believe what you are telling them?"
Euclid Tsakalotos:
"We've promised them a lot, we've made compromises, but we've also taken this settlement, this agreement to the polls. The election in September was the first time the Greek people knew what they were voting for. It wasn't like we said 'we are going to pose the agreement' and then changed our minds. This agreement with its good sides and bad sides actually was part of the election campaign and we won the election on that".
euronews:
"And how do you feel as a left- wing politician to support and in fact implement these kinds of policies that of course include privatizations of public assets?"
Euclid Tsakalotos:
"As a left-wing minister you have to address the issues. I was faced in the summer with people telling me, 'we don't really need the left if it's only useful when we have 5% growth and 5% unemployment'. If we are not useful to people when we have 25% unemployment and there is no growth, they are not going to vote for us after the recovery. People have voted for us because they know we will enforce this program with as much social sensitivity as possible. And we've shown that in the way we've reformed the pension system, we've showed that in the way we've reformed the income tax system".
---
Euclid Tsakalotos
Tsakalotos is a left-wing economist and the current Greek Minister of Finance
He was born in Rotterdam in 1960 and educated at Oxford where he was later awarded with a PhD in economics.
A professor at the university of Athens since 2010, he is is the author of six books and numerous newspaper and magazine articles
He has been described as a "Revolutionary Europeanist" as he supports EU Integration but not its capitalist principles.
---
REFORMINGTHELABOURMARKET
Efi Koutsokosta:
"We see now in France that the government is trying to pass an unpopular labour reform and we see people in the streets demonstrating. Are you with the people demonstrating or with the French government that recently has become a very good friend of yours?"
Euclid Tsakalotos:
"Well, this is an issue that all countries will have to face, labour market reforms. I am not convinced that Europe is not doing well because of labour market inflexibility. We've been hearing this for very many decades. There have been a lot of moves to improve labour flexibility which have had little effect on employment.
In general, for instance, in Greece the institutions are going to ask us to make firing more easy but we know and, as you know, I am an academic economist, the evidence is actually not there that if you make firing easier, you will get lower unemployment. What you do get is the same employment but with increasing insecurity for workers".
THEBREXITBREAKUP
euronews:
"There is a possible 'Brexit' which is on the table right now. The UK will go to a referendum to ask the citizens what you didn't ask the Greek citizens. In or out of the European Union? What do you think? What would be better for the UK, the EU and for Greece?"
Euclid Tsakalotos:
"I am certain for the UK, for Europe and Greece, remaining in Europe would be better. I have no doubts on that. If there is a Brexit there will be other centrifugal forces and centrifugal forces we had in the 1930's with competitive devaluations and nationalisms which had a very unsavory end as you know. So, I am very worried about that. But it's important for Europeans to take the lesson whatever the result. Let's say for instance the remain side wins by two or three percent. It's a very big warning signal. If Europe doesn't react and assure ordinary people that there is an agenda on wages, on pensions, on the welfare state, we will have more Brexit- type episodes in the future".
EU DEMOCRACY AT STAKE
euronews:
"Your predecessor Mr. Varoufakis was repeatedly saying that the European Union, and of course the institutions, don't work in a democratic way. Do you agree with that? What does your experience tell you?"
Euclid Tsakalotos:
"I think that whether there is an issue of democracy in Europe is not in question. I mean I don't think the political scientists have been discussing this for the last 10 years. It is absolutely critical that we do not label people who say 'I want a bigger say in the issues that affect my life' as populists. If you call them populists then you drive them to Le Pen, you drive them to the people supporting Brexit, you drive them to the ultra right. You have to listen to people. People are saying 'I want a say in matters that affect my life and if Europe cannot do that, I am going to become anti-European'".
euronews:
"When do you think that Greece will change, so that people will realise that it's not only the figures that are changing but the real economy, the real life of the people?"
Euclid Tsakalotos:
"I think we will have failed if you invite me here in one year's time and the signs of the recovery are not there. So, you can invite me if you want to, in a year's time and you can repeat the question. But I hope this time next year people will see that the development aspects of our program are coming in, that growth is returning and we'll be part of quantitive easing, I think it will be very different".