Adele dedicates concert in Antwerp, Belgium to Orlando victims
Comments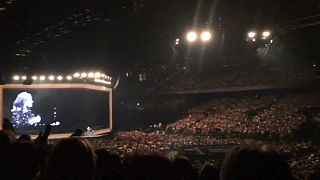 Adele struggled to hold back the tears during her concert in Belgium Sunday night (12 June) as she paid tribute to victims of this weekend's shooting at Pulse nightclub in Orlando.
"I'd like to start tonight by dedicating this entire show to everybody in Orlando, and at Pulse nightclub last night," the star said from the stage in Antwerp.
"The LGBTQ community, they're like my soul mates since I was really young, so I'm really moved by it."
50 people were killed and dozens critically wounded at the nightclub, in the deadliest mass shooting in modern US history.