Mexico protests over arrest of union leader
Comments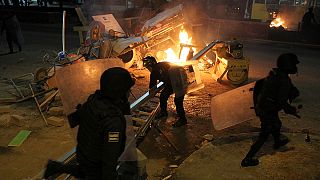 There have been more clashes between teachers and police over controversial education reforms in Mexico.
This time they were sparked by the arrest of a union leader accused of money laundering.
His supporters say the arrest was politically motivated.
Mexico Detains Leader of Dissident Teachers Group in Oaxaca State – Wall Street Journal https://t.co/EBOZGdE0Om

— Edu Policy Daily (@EduPolicyDaily) June 13, 2016
Ruben Nunez has led a decade-long fight for better pay and working conditions. Seven other union officials have been arrested in recent weeks.
Thousands of police deployed to Mexico City streets to impede teachers' union marches (SPA) https://t.co/v2×8BA28gtpic.twitter.com/KtZreWQ1nz

— Human Rights Oaxaca (@OaxacanewsENG) June 3, 2016
Fellow union leader Juan Garcia told supporters they would not give up the fight: "I say to our leader and secretary general, comrade (Ruben) Nunez, wherever you are, know that here in our city of Oaxaca the education workers are strongly behind this movement."
Nunez supporters have set up roadblocks to demand his release and called for more demonstrations later this week but to be held in Mexico City.
The union ( National Co-ordination of Education Workers – CNITE) opposes education reforms introduced in 2013 by President Enrique Pena Nieto, which include new measures to evaluate teachers.