Police investigate possible ISIL links with Orlando massacre
Comments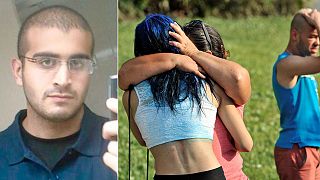 Fifty people killed in gun attack on gay nightclub
*Suspect took hostages and died in gunfight with Swat officers

ISIL

claim Orlando shooting
Suspect named as Omar Mateen and was interveiwed by

FBI

twice
Mateen worked for G4S and carried gun
The US is reeling from its worst ever mass shooting after a man armed with an assault rifle killed 50 people at a packed gay nightclub in Orlando, Florida. Fifty three others were wounded in the massacre. The gunman was eventually shot dead by SWAT officers.
He has been identified as 29-year-old Omar Mateen, a US citizen who was born in New York of parents who were immigrants from Afghanistan.
Police are keeping an open mind on possible links with the militant ISIL group.
"It has been reported that Omar Mateen has made 911 calls this morning, in which he stated his allegiance to the leader of the Islamic State. We're looking into any and all connections both domestic and international,"said FBI agent Ron Hooper.
However it's been revealed that Mateen was investigated twice by FBI since 2013 over indications that he supported militant groups but was not on an active terrorism watch list.
ISIL's Amaq news agency said on Sunday that the Islamist militant group was responsible for the shooting.
However Florida Senator Bill Nelson has said the claim had not been confirmed.
Part of the investigation has focused on a house in Fort Pierce near Orlando which appears to be linked to the suspect.
Mateen is said to have worked for G4S, the world's largest security firm, since 2007 and carried a gun as part of his duties – according to the company.
Mateen's father has told the media that the attack "had nothing to do with religion", saying his son had been angry when he recently saw two men kissing.
In a separate incident in Los Angeles a heavily armed man has been detained near a Los Angeles gay pride festival.
He was arrested after a tip-off, on suspicion of possessing weapons and explosive materials. Police have said so far there is no apparent link to the deadly mass shooting in Florida.