UEFA says England and Russia face disqualification if violence continues
Comments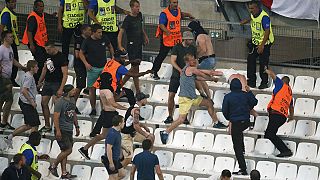 UEFA has threatened to disqualify Russia and England from the Euro 2016 tournament if there is more hooliganism.
People engaging in such violent acts have no place in football
In a statement European football's governing body's Executive Committee said it "will not hesitate to impose additional sanctions, including the potential disqualification of their respective teams from the tournament, should such violence occur again."
It follows a third night of violence in Marseille involving England and Russian fans.
UEFA has admitted there were segregation issues at the Marseille stadium during Saturday's England-Russia match which may have contributed to fighting in the terraces at the final whistle.