Pope Francis laments child labour as 'modern slavery'
Comments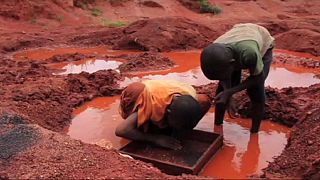 They are the forgotten youngsters – the estimated 168 million, globally, trapped in child labour.
More than 40 per cent of them are between the ages of 5 and 11 according to the International Labour Organization which has raised the alarm – as has Pope Francis – on the World Day Against Child Labour.
"All together we renew the commitment to eliminate the cause of this modern slavery, which deprives millions of children of some fundamental rights and exposes them to serious dangers," Francis said at a mass in St Peter's Square on Sunday, dedicated to disabled people and their carers.
"Today there are many children in the world who are slaves."
This year's focus is on child labour and supply chains with tech giants including Apple accused by Amnesty International of failing to do basic checks to ensure that cobalt mined by child labourers has not been used in its phones.
Apple has insisted that it has a zero tolerance policy towards child labour. The firm has said it has been working to evaluate ways to improve its identification of labour and environmental risks.
Marking World Day, @UN stresses need for coherent policies to end #childlabourhttps://t.co/2Zn98vsTFk#ILC2016pic.twitter.com/RGI7bemzpR

— UN News Centre (@UN_News_Centre) 12 juin 2016
.FAOnews</a> & <a href="https://twitter.com/ilo">ilo are working are together to stamp out #childlabour in agriculture https://t.co/PqE4FRU2Ajpic.twitter.com/MdyCNTXEfs

— United Nations (@UN) 12 juin 2016