Obama condemns an 'act of terror' and an 'attack on all of us'
Comments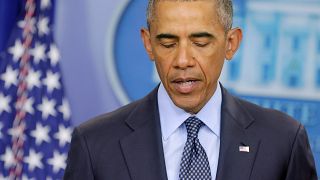 President Obama has ordered the flag at the White House to be flown at half mast to honour the victims of the worst mass shooting in US history, describing it as an "act of terror" and an "act of hate".
He said Sunday's massacre of 50 people at a packed gay nightclub in Orlando, Florida was an attack on all Americans.
"This is an especially heartbreaking day for all our friends – our fellow Americans – who are lesbian, gay, bisexual or transgender," Obama told reporters.
"The shooter targeted a nightclub where people came together to be with friends, to dance and to sing, and to live. The place where they were attacked is more than a nightclub – it is a place of solidarity and empowerment where people have come together to raise awareness, to speak their minds, and to advocate for their civil rights.
"So this is a sobering reminder that attacks on any American – regardless of race, ethnicity, religion or sexual orientation – is an attack on all of us and on the fundamental values of equality and dignity that define us as a country. And no act of hate or terror will ever change who we are or the values that make us Americans.
.@POTUS orders U.S. flags flown at half-staff to honor the victims of the attack in Orlando: https://t.co/k6QWAbrHAhpic.twitter.com/uivIQQQC9j

— The White House (@WhiteHouse) 12 juin 2016
The president also termed the shooting a new reminder of "how easy it is for someone to get their hands on a weapon that lets them shoot people in a school or in a house of worship or a movie theatre or in a nightclub," a reference to other mass killings that have punctuated recent US history.
"We have to decide if that's the kind of country we want to be," he said.