France and UEFA to boost security
Comments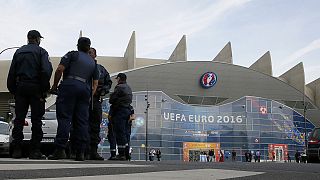 France and European football's governing body UEFA have vowed to beef up stadium security in the wake of last night's violence between English and Russian football fans.
Supporters waiting for this afternoon's Euro 2016 match at Paris' Parc de Princes between Turkey and Croatia already felt a heightened police presence.
Increased measures likely to be enforced aim to strengthen the separations between supporters on the terraces.
Security on the streets, however, is meant to be assured by French authorities who are under growing pressure to provide adequate protection.
"We can never be totally safe, (but) I think we need some protection at the very least, that's a minimum", said one man in central Paris.
Sentiments shared by a Scottish tourist: "The fan zone is probably the most secure place where to watch the game, the security is pretty good there. I've seen everybody is getting checked before they go in. And the price of beer is not too bad in the fan zone either."
Meanwhile, UEFA's opened disciplinary proceedings against the Russian Football Union (RFU) over allegations of crowd disturbances and fireworks being set off by fans in the stands at the end of Saturday night's match in Marseille.
A decision on sanctions to be imposed will be made within the next few days once Russian authorities have submitted written evidence.