Mein Kampf causes controversy in Italy as copies given away with daily newspaper
Comments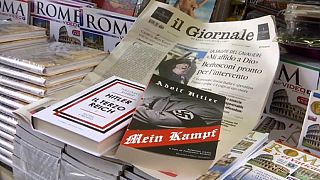 An Italian newspaper has come under fire for distributing free copies of Adolf Hitler's 'Mein Kampf.'
Centre-right daily Il Giornale offered the annotated work to readers who bought a book on German history – available as a supplement with Saturday's edition.
Prime Minister Matteo Renzi labelled the giveaway "squalid" and offered his solidarity with the Jewish community.
Trovo squallido che un quotidiano italiano regali oggi il Mein Kampf di Hitler. Il mio abbraccio affettuoso alla comunità ebraica #maipiù

— Matteo Renzi (@matteorenzi) June 11, 2016
The newspaper, which is owned by the family of former Prime Minister, Silvio Berlusconi, justified the decision by arguing it would allow readers to "study what is evil to avoid its return."
In the editorial, Alessandro Sallusti wrote: "The concerns of our friends of the Italian-Jewish community, who always have and always will see us by their side… deserve all our respect."
Upon the copyright expiry of Mein Kampf this year, Germany allowed only an annotated, critical edition of the work to be published. The country's incitement laws restrict the publication of other versions.