Three days of celebrations for Queen's birthday begin
Comments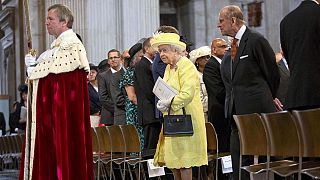 London's iconic St Paul's Cathedral was filled with dignitories and well-wishers for a special service for Queen Elizabeth's 90th birthday. It was a solemn moment to start the celebrations.
The UK is marking the occasion of her official birthday with three days of festivities, her grateful subjects united in giving thanks.
In his address David Ison, the Dean Of St Paul's said: "Most especially today do we give thanks for the length of years that has been granted to our most gracious Sovereign Lady, Queen Elizabeth: for her faithful devotion, dutiful commitment, loving leadership, gentle constancy, royal dignity and kindly humanity."
The Queen has two birthdays – the official one is always held on a Saturday in June to make the most of the better weather. Her real date of birth is April 21.
Outside the cathedral a large crowd gathered outside to show their appreciation, as London echoed to the booms of a gun salute.