Syria: Damascus suburb Daraya bombed after aid delivery
Comments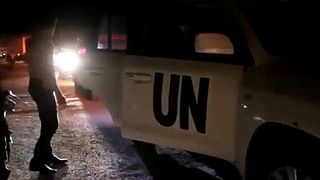 Barrel bombs have reportedly hit Daraya in Syria after desperately needed food aid reached the besieged town for the first time in four years.
At least 28 of the unguided explosives were dropped by helicopters on the Damascus suburb, the town's local council said.
The bombings, if verified, came only hours after the aid delivery.
The international convoy led by the Syrian Arab Red Crescent in co-ordination with the United Nations reportedly arrived shortly before midnight on Thursday.
Lying just south of the Syrian capital, Daraya has been subject to a crippling government blockade since it came under siege in 2012. Severe cases of malnutrition have been reported in the opposition controlled suburb due to chronic shortages of food and medicine.
The UN estimates between four to eight-thousand people still live in the town.
The food-aid delivery in Daraya took place after the UN said Syria's government approved access to 15 of the 19 besieged areas within the country.