UK warns fans over Euro 2016 terror risk
Comments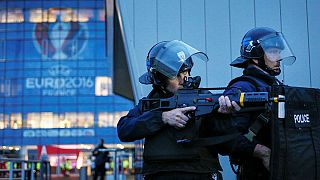 The UK Foreign Office has issued advice to fans travelling to France to remain vigilant as busy tournament hubs could be potential terror targets.
"During Euro 2016, stadiums, fan zones, venues broadcasting the tournament and transport hubs and links represent potential targets for terrorist attacks. You should be vigilant at all times, especially in areas hosting Euro 2016 events, and follow the advice of local French authorities."
The warning comes over the continued threat to France posed by Islamist terror groups, as France has warned the public to remain vigilant.
A national state of emergency will continue in France until July 26 to cover the Euro 2016 football tournament as well as the Tour de France.