Iraq: 'over 20 dead' in dual car bombings in Baghdad
Comments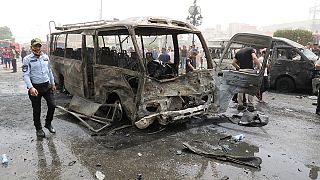 Two separate bombings in Baghdad have killed more than 20 people and wounded at least 70.
One targeted a commercial street, the other an army checkpoint, according to Iraqi police.
An officer said a car packed with explosives blew up in a shopping street in an eastern district of the capital, killing at least 15 people and injuring over 50.
The self-proclaimed Islamic State group said via a website it commonly uses that it carried out the attack.
The police also say a suicide car bomb also hit a main army checkpoint just north of Baghdad, killing seven soldiers and wounding more than 20.
The attacks come as Iraqi forces are trying to dislodge ISIL militia from their stronghold of Falluja, just west of the capital.
The United Nations has said as many as 90,000 civilians – not 50,000 as previously estimated – could be trapped in the besieged city.