Celebrations in Bangkok for 70 years of Thai King Bhumibol's reign
Comments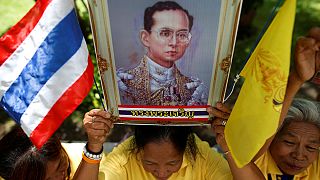 The king of Thailand is celebrating 70 years on the thone – and the Grand Palace in Bangkok was the venue for some colourful festivities on Thursday.
Hundreds of Buddhist monks turned out to mingle with royal well-wishers dressed in the traditional royal colour of yellow, as well as members of the military junta.
A total of 770 monks – a figure seen as bringing prosperity – took part in a procession including the "traditional Buddhist ritual':http://buddhism.about.com/od/becomingabuddhist/a/foodoffering.htm where people offer them food.
The celebrations come at a time when King Bhumibol's frail health is causing concern.
Thailand remains extremely divided politically and the monarchy and especially this monarch is seen as a force for unity – although detractors highlight stringent insult laws enforced with record jail terms.
The 88-year-old, who is far more popular than his son and heir, is the only king the vast majority of Thais have ever known.