Tesla's Panasonic pledge hits Samsung shares
Comments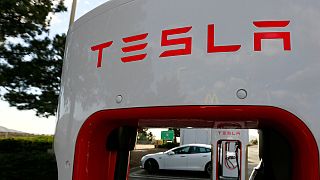 Tesla has revealed it is working exclusively with Japan's Panasonic to supply batteries for the Model 3, its first mass-market car.
The news sent Panasonic's shares higher on Wednesday. They finished the day up 3.5 percent.
This came one day after a report that South Korea's Samsung was making progress in talks with Tesla to supply batteries for the electric car, as well as for Tesla's energy storage systems.
A source had told Reuters that Tesla, which currently buys batteries from Panasonic, was likely to add Samsung as a supplier for Model 3 if and when Tesla's battery plants were not able to produce enough batteries to meet demand.
Would like to clarify that Tesla is working exclusively with Panasonic for Model 3 cells. News articles claiming otherwise are incorrect.

— Elon Musk (@elonmusk) June 8, 2016
In a later twitter exchange with a Bloomberg reporter Musk clarified that Samsung could possibly provide batteries for Tesla Energy.
Shares in Samsung tumbled eight percent on Wednesday having surged over six percent one day earlier.
A Samsung spokesman declined to comment
Tesla is going to need a lot of batteries; it has orders for close to 400,000 of the Model 3 and recently dramatically upped its production targets.
It has said it will begin customer deliveries in late 2017, but has a history of missing deadlines.
Panasonic also plans to contribute $1.6 billion (1.4 billion euros) to Tesla's $5 billion (4.4 billion euros) Gigafactory in phases over the next few years.
Panasonic says it's ready to accelerate its Tesla Gigafactory investment to support the Model 3 https://t.co/Uiq2tRrIZ3#autos

— Harry Talks Today! (@HarryDouglas) May 29, 2016