Spanish triathlete wins Princess of Asturias Award for Sports
Comments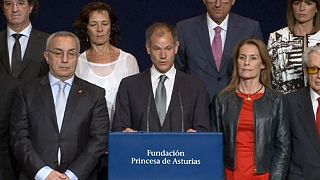 The Princess of Asturias Award for Sports was announced today in Oveido, in Northern Spain.
This year's winner of the 50,000 euro award is 33-year-old Spanish triathlete Francisco Javier Gómez Noya.
President of the jury, Abel Anto Rodrigo, said of the Spaniard: "The jury has recognised the values of effort and perseverance in adversity, demonstrating an enormous strength and a great spirit of excellence in his career."
The winner of five ITU Triathlon World Championships, Gómez holds three ITU Triathlon World Cup titles, and won the Silver medal at the 2012 Olympics in men's triathlon. He has also won world titles for XTERRA and Ironman Triathlons and finished second in the 2015 Chicago Triathlon.
In 2000 a routine medical test revealed Gómez had an abnormal heart valve. This led to a six-year battle between the athlete and the Spanish sporting authorities regarding his right to compete internationally.
Previously called the Prince of Asturias Awards, the Awards were established in 1980 by then twelve-year-old Prince Felipe. Described as Spain's Nobel Prizes, there are eight Princess of Asturias Awards: the Arts, Literature, Social Sciences, Communication and Humanities, Technical and Scientific Research, International Cooperation, Concord and Sports.
The Award for Sports can be awarded to individuals, institutions or groups of individuals. Past winners of the annual Award have included tennis player Rafael Nadel and ex-race car driver Michael Schumacher, the Tour de France and the Brazil National Football Team. Gómez's candidature was put forward this year by the president of the Spanish Triathlon Federation. Gómez took up the sport at the age of 15 after playing football and competing in swimming.