Hillary Clinton claims US Democratic Party nomination
Comments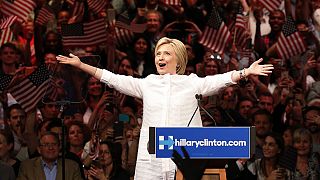 Hillary Clinton has claimed the US presidential nomination for the Democratic Party.
Although the party won't declare its candidate until its convention in July.
After hugging her pregnant daughter, the former first lady, former secretary of state and former New York senator declared victory over Bernie Sanders.
"Let there be no mistake," she said. "Senator Sanders, his campaign, and the vigorous debate that we've had about how to raise income, reduce inequality, increase upper mobility have been very good for the Democratic party and for America."
A defiant Bernie Sanders showed no interest in quitting.
He told supporters in the US city of Santa Monica that he would battle on to next month's Democratic Party convention.
"If this campaign has proven anything, it has proven that millions of Americans who love this country are prepared to stand up and fight to make this country a much better place," said Sanders. "Thank you all, the struggle continues."
Even if Sanders does concede to Clinton, many of his supporters say they would have trouble supporting Clinton in a showdown against Donald Trump.