Copa America 2016: Wrong national anthem played before Uruguay-Mexico game
Comments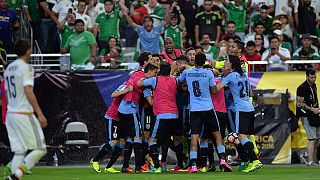 Players looked at each other bemused and orgainisers were left red-faced as the national anthems were sung at today's Copa America match between Mexico and Uruguay.
Instead of Uruguay's "Orientales, la Patria o la Tumba", the national anthem of Chile was played out in the stadium.
After apologizing to the people of Uruguay, organisers blamed human error for the mix-up.
This is the first time the Copa America has been hosted in the USA.