Thousands rally in Polish capital against conservative government
Comments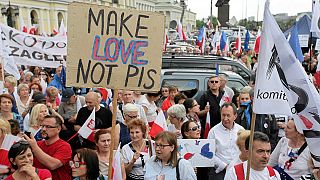 Large opposition rallies have been held in the Polish capital Warsaw.
Around 50,000 people, according to organisers, hit the city's streets on Saturday to rally against the conservative government and what they see as its anti-democratic policies.
The demonstration was led by two of Poland's former Presidents Aleksander Kwasniewski and Bronislaw Komorowski.
The ruling Law and Justice party has rejected criticism over recent reforms of the judiciary, surveillance laws and the media despite a formal warning from the EU which said Poland's democracy and rule of law were at risk.