Clinton opens up double-digit lead over Trump
Comments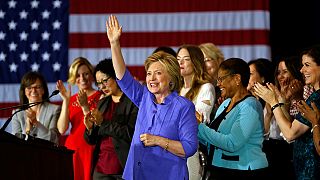 Democratic presidential hopeful Hillary Clinton has opened up a double-digit lead over Republican rival Donald Trump, according to a new poll.
Trump briefly drew level with Clinton last month raising expectations of a tight race between the two likely contenders for the White House in November's election.
Clinton's surge in support comes as she stepped up her attacks on the New York Billionaire.
"I believe absolutely that he's not only unprepared to be president, he is temperamentally unfit to be president. He doesn't, he doesn't really have ideas, he just engages in rants and personal feuds and outright lies, something that our country cannot afford in a commander-in-chief," Clinton said.
Despite facing criticism about his Trump university and donations to US veteran groups,
the real estate mogul, who has all but won the Republican presidential nomination, hit back while on the campaign trail in California.
"I think that Hillary Clinton is unfit to lead our country certainly at this time. Hillary Clinton is not a talented person. She's not a natural. She wasn't meant for this job. She's greedy, she's greedy as hell, and that's I think the reason she wants it," Trump said.
The latest IPSOS/Reuters poll, gives Clinton 46 percent of likely voters compared to 35 percent for Trump. The rest of those surveyed responded by saying they would not back either presidential hopeful.