Bruges gets beer pumped in by pipeline
Comments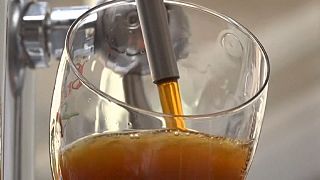 4000 litres – how much is pumped an hour
Four million euros – how much it cost
Three kilometres – the total length

Belgium's beer pipeline
Beer-loving Belgians have helped to fund an underground beer pipeline to protect the historic centre of one of their most beautiful cities.
Known to millions for its heritage, Bruges is a UNESCO-protected site.
A pipe dream comes true: Belgium to build a beer pipeline through the city of Bruges. https://t.co/waFBtV9be1https://t.co/oFxOLWhNNw

— The Associated Press (@AP) June 4, 2016
A local brewery has built a pipeline to transport he amber liquid to its bottling plant – which means no huge lorries in the medieval streets.
The beer necessities
The pipeline will pump 4000 litres of beer an hour to the bottling plant which is three kilometres away.
The total cost was four million euros.
Ten percent was financed through a crowd-funding initiative.
What they are saying
Underground beer pipeline in Bruges nearing completion https://t.co/Cv6Lr4unqWpic.twitter.com/wchTL1RAKI

—

CTV

News (@CTVNews) May 21, 2016
De Halve Maan brewery director Xavier Vanneste decided a pipeline would be a better option.
"When I saw people working in the streets making data cables and other kinds of cables and by talking to those people that you realise that it was just possible to do it."