Venezuela's growing medical shortage
Comments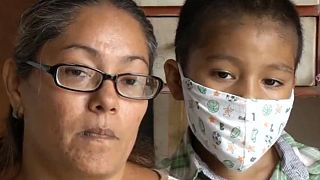 From bread and beer to sugar and toilet paper – you name it, Venezuela's economic crisis has resulted in a chronic shortage of basic goods.
But, the lack of vital medicine is particularly acute.
Experts say the government's import of low cost alternatives and how they are handled has led to a ''drastic reduction" in medical success rates, notably in treating cancers like leukaemia.
Paolo Marquez Eneida 8-year-old son has Leukaemia. She said:
"There is nothing here (medicine) and we have to go to other countries to look for the medicine and that is very expensive. Unfortunately, the situation we are going through is terrible. There are many children and adults who are dying because there are no medicines to treat the diseases they have.''
During the oil bonanza under former President Hugo Chavez, Venezuela spent lavishly on health.
Those waiting for treatment accuse the current government of eroding those gains, wasting money on needless items.
Adelso Belen, a haemophiliac said: "They (government) are buying airplanes and not drugs. With the purchase of those aircraft they would have solved the problem of drugs in Venezuela. There were dollars for that purpose, but for us who suffer from shortages of medicines and food, they have not given us an effective solution. I have heard nothing about solving this shortage issue."
Some doctors in Venezuela say they have stopped using certain generics drugs.
But with around 8 of every 10 medicines running short, according to one leading pharmaceutical association, clinicians have less and less wiggle room.
Wealthier patients used to travel to Miami or Bogota to purchase missing medicine, but the local bolivar currency's near-collapse and the closing of the border with Colombia last year have ended that option.