Turkish PM goes easy on Germany, calls Armenian genocide decision 'historic mistake made by friendly ally'
Comments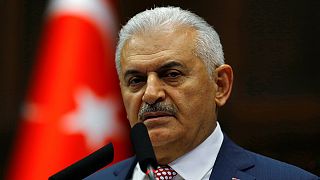 Turkey's Prime Minister has made an official government statement in the wake of the German parliament's recognition of the Armenian genocide, and it contains nothing that suggests bilateral relations are going to take a radical downward turn.
Binaly Zildrim said the vote will "not destroy ties". He added: "The resolution on the 1915 incidents that was adopted in the German parliament with the pressure of the Armenian lobby is a historic mistake made by a friendly ally's parliament."
While the soft-pedal line was adopted by some commentators, others were less restrained.
Hurriyet led with the opinion Zildrim has no intention of destroying ties with Berlin.
The opposition paper Sabah showed how it thought Germany would react to any diplomatic bashing over the issue, while Kemalist opposition paper Söczü cried "shame" and portrayed Angela Merkel as Hitler.
Sözcü titre "honte à vous" et une photo de Merkel en Hitler après la reconnaissance du #génocide Arménien #Bundestagpic.twitter.com/1cx8cIcChf

— Endza Djergaian (@EndzaDjergaian) June 3, 2016
Nationalists also gathered in Istanbul to stage a protest against the German decision, while in Germany the Turkish ambassador left his embassy for "consultations" back home with President Erdogan.