Cameron urges voters not to 'roll the dice' by backing Brexit
Comments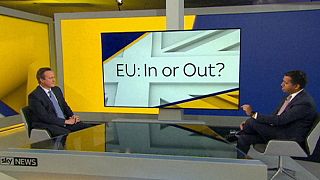 David Cameron has urged British voters not ''roll the dice'' on their children's future by quitting the European Union.
In the first major TV debate over whether the UK should stay or leave the bloc, the Prime Minister said a vote to exit would be an economically ''self-inflicted wound''.
He also insisted he'd take Britain into the EU under the special terms it now enjoys if it wasn't already a member.
"I've enhanced our special status with real protection for Britain in the bits we want to be in, principally the single market, and out of the bits we don't like, like the eurozone and no-border zone. So, on that basis, yes, if I was offered the terms of another country, that would be a different matter, but Britain's terms are right for Britain, and I think we should stay in," said Cameron.
Cameron's opponents, however, have dismissed his warnings over a possible EU exit, particularly on the economy, as scaremongering.
Earlier, prominent Leave campaigner Boris Johnson
continued his push for the UK to quit the EU at a cattle market.
"What proportion of laws going through the palace of Westminster, do you think are coming from Brussels at the moment? Does anyone have an idea? Who will give me 30 per cent? Any advance? Shall I tell you the answer? It's 60 per cent," Johnson said.
Meanwhile, in London, Britain's main opposition leader, Labour's Jeremy Corbyn, also called on supporters to back the Remain campaign.
So far, both Corbyn and Cameron have not appeared on the same platform together, though Cameron admitted on Thursday the two men had spoken about the upcoming referendum on June 23rd.