Justin Trudeau raises Pride flag for 1st time on Parliament Hill
Comments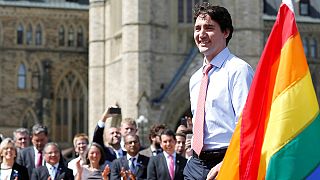 Canadian Prime Minister, Justin Trudeau, today raised the rainbow flag associated with LGBTQ pride for the first time on the country's Parliament Hill.
Parliament Hill, in the capital, Ottawa, is the home of the Parliament of Canada.
A number of politicians turned out to support Trudeau, including openly gay Canadian Liberal Party politician, Scott Brison, who commented: "We've seen such progress in our lifetime," (CBC News).
Of the historic event Trudeau said: "This is a great day for Canada and it's part of a long series of milestones this country has hit over the years."