'Believe in your dreams' - NBA star Antetokounmpo's message to migrants
Comments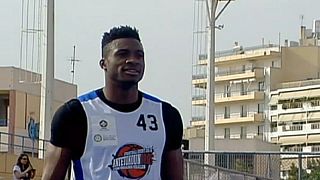 Giannis Antetokounmpo is a professional basketball player in the NBA for the Milwaukee Bucks.
Rising NBA star Giannis and his brother Thanasis – an NBA Development League player, were born in Greece but are of Nigerian descent.
The recent migrant crisis to hit Greece and the rest of Europe is a subject matter that Giannis and his family can relate to and the 6 ft 11 point guard, who was back in Athens for a charity match he was hosting, had some words of encouragement for the refugees.
Giannis said: "I want to tell them that if they believe in their dreams and they want to achieve them, they should never stop. Many obstacles will come in their life, but they will have to continue to struggle. My family didn't begin our fight three years ago (when I became famous), that was when most people simply learned about us. We struggled for 25 years. There will be difficulties. It will take time, sacrifices, you will have to sweat, maybe to bleed, to cry, but when at the end you will make it, there will be a great feeling.''
Over a million migrants have landed on Greek shores over past year and Thanasis believes a simple kind gesture can go a long way in helping those who have fled their countries looking for a better life.
Thanasis said: "The migrants come here (to Europe) because there is no life in their countries. They come for a better future. You can help a person even with just a hug. Because they are not only immigrants. They are human beings and all of us should help".
Helping people appears to be high on the Antetokounmpo agenda as, in Athens, the brothers hosted a Streetball exhibition event to raise money for a children's charity.