Czech and Greek police break up forgery network
Comments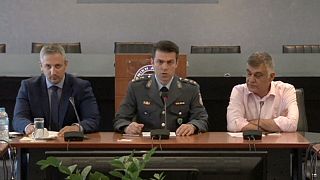 Czech police have released a video of a raid which took place at the end of May said to be targeting an international criminal network of migrant smugglers and document forgers.
It was part of a coordinated operation in both the Czech Republic and Greece supported by the European police agency Europol.
Ten suspects were arrested in the Czech Republic, where one group would send stolen or lost travel documents to Athens.
More arrests were made in Greece where two groups which were run by Bangladeshi and Sudanese nationals, would forge passports, national ID cards, Schengen visas, driving licences, asylum seekers' registration cards and residence permits, according to police.
#Europol operation leads to 19 arrests for document forgery and migrants smuggling https://t.co/qk0h4VlD6e

—

ISO

(@ISObserver) June 1, 2016
Greek police spokesman Theodoros Chronopoulos explained that the criminal network contained two organisations, working at the same time, creating a labyrinth network for the illegal transport of migrants, based primarily on the use of forged and stolen travel documents including plane tickets. It had been in operation over a period of two years.
The fees for the forged documents ranged from 100 euros to 3,000 per piece depending on the quality, type and country of issue.
The police operation reveals a growth in criminal gangs profiting by praying on vulnerable people as the migrant crisis in Europe continues.