US warns of Europe terror threat
Comments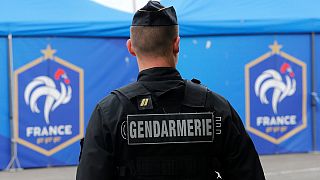 The United States has issued a Europe-wide travel alert to its citizens warning them of possible terror attacks this summer. It mentions high profile events but there was no specific threat information.
In its alert the US State Department named the 2016 Euro football tournament being held in France, the Tour de France cycle race, and the Catholic Church's World Youth Day Event scheduled this July in Poland. It said all represent potential targets for terrorists.
State Department spokesperson John Kirby later provided some context for the alert.
"I'm not aware of any specific, credible terrorist threat around these events or in any particular place in Europe. This alert was issued just as they always are based on accumulation of information."
Local US media outlets have already picked up on the warning:
TRAVELALERT: US warns traveling Americans of potential terror attacks in Europe this summer https://t.co/sb02EKMpNtpic.twitter.com/sGObwzNRd3

—

WSVN

7 News (@wsvn) May 31, 2016
France which remains a leading tourist destination, has already reviewed security protocols at the Stade de France in Paris – a site already targeted by suicide bombers last November. The stadium will host the opening match of the Euro championships on June 10.
The government has also extended a state of emergency across the country which was imposed after the Paris attacks. It also says its intends to employ anti-drone technology during the period of the football tournament along with 90,000 police, soldiers and private security agents.
The French government has also published a list of extra measures it plans to employ.
The US warning, which is only the third in 20 years for Europe, also covers restaurants, transport and several tourist sites.