Shooting of Zoo's gorilla sparks online protest
Comments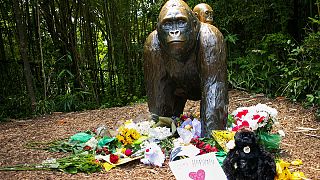 The shooting dead of a gorilla as he dragged a 4-year-old child around his zoo enclosure has outraged animal lovers.
Over 200,000 have signed a petition in protest and want the child's parents to be held accountable.
Really sad scenes as a majestic and endangered #Gorilla is killed after a child fell into its pen #WhatATragicWastepic.twitter.com/nGYezYsReF

— Justin Alexander (@reddeadlives) May 30, 2016
Harambe, a Western Lowland gorilla was killed by Zoo keepers after the boy had climbed over a barrier and appeared to be in danger.
The director of Cincinnati Zoo has defended the decision to shoot the animal saying Harambe was clearly agitated and was bagging the child's head on the concrete as he was being dragged around.