UPDATE: White House partial lockdown lifted on Memorial Day
Comments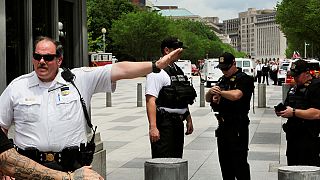 The White House has resumed 'normal operations' after it was placed on a partial lockdown after a person threw an object over the fence.
A US secret service spokesperson said, 'An individual threw a metal object over the north fence line…Secret Service Uniformed Division officers immediately apprehended the individual without incident. All protective sweeps of the metal object were met with negative results."
Reporters were unable to leave the compound via its northwest gate.
One local radio station reported that one person had been taken into custody.
President Obama attended Memorial Day commemorations for members of the armed services at Arlington Cemetery earlier in the day, and was at home when the lockdown was announced.
It comes just over a week after another security incident where a man was shot approaching the White House (May 20).
At the end of April there were two further incidents, when a man jumped the fence at the Eisenhower Executive Office Building (April 26) and the next day there was a brief lockdown after a person threw 'personal belongings' over the north fence.