Washington pays tribute to US military casualties at Memorial Day concert
Comments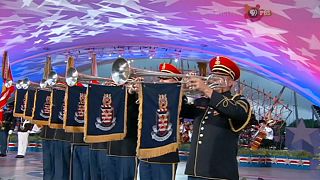 Washington has staged a concert in the American tradition to commemorate Memorial Day, which honours military personnel who died serving the country.
Thanks were given to the thousands currently deployed around the world, especially those in Afghanistan, Iraq and South Korea.
Co-hosted by actors Gary Sinise and Joe Mantagna, the concert was held under the rain in Washington DC's National Mall on Sunday.
A well-known face from the Bush administration which oversaw the invasion of Iraq led the tributes. Former Secretary of State Colin Powell thanked the troops and veterans for their service to the nation.
"So tonight to all of our nations' veterans and to all of our nations' fallen and their families, we thank you and we salute you. Now, please everyone stand up if you can and stand up for those who can't, let's give our nations veterans and their families the tribute, they do richly deserve, thank you," Powell told the audience, to applause.
The Beach Boys were there to add to the festive atmosphere, performing several of their hits from the sixties as veteran and current servicemen and women families danced and sang along.
Memorial Day commemorates service personnel who died, as opposed to Veterans Day which is for all who serve in the military.