Ex-Chad president sentenced to life in prison for crimes against humanity
Comments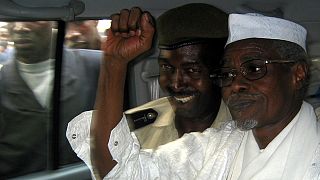 Former Chad President Hissene Habre has been found guilty of crimes against humanity for ordering the killing and torture of thousands of political opponents during his rule from 1982-1990.
He was sentenced by the Special African Chamber in Senegal to life in prison. It marks the first time that the court created by the African Union has tried a former leader for human rights abuses.
The 73-year-old denied all charges and refused to acknowledge the authority of the court.
Victory for the victims
The trial was the culmination of a 25-year campaign by the victims and human rights activists to bring Habre to justice.
Justice & joy – #HisseneHabre sentenced to life for atrocity crimes pic.twitter.com/0xGwXATK8B

— Andrew Stroehlein (@astroehlein) May 30, 2016
Investigators detailed how during Habre's rule from 1982-1990 water boarding, binding and rape was systematic and up to 40,000 people were killed.
Human Rights Watch applauded the tenacity of the victims in continuing the fight which saw them pass through the legal process in Belgium and Senegal at the UN Committee Against Torture as well as the International Court of Justice.