Champions League: Milan gears up for ding-dong Madrid derby
Comments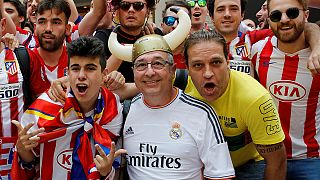 Another Champions league final and another Madrid ding-dong derby.
The tension is at fever pitch in Milan as it prepares to host European football's premier club event, a repeat of the 2014 final.
From the Italy's second city Euronews' Paula Vilaplana said: ''80,000 supporters will be in Milan's San Siro stadium to watch Real Madrid and city rivals Atlético face off once more. But, it's not just about local bragging rights, whoever wins this all Spanish affair will also snatch Barcelona's European crown.''
Around 100,000 fans from both clubs have descended on the Italian city. Despite the glorious summer sunshine, revenge is in the air after Atlético missed out two years back. But record ten-time winners Real are also gunning for their 11th title.
Ahead of the tie Euronews' Cinzia Rizzi also spoke to several former and current players to get their prediction.
"Real Madrid for sure. Historically it's a team of Champions. For us this competition is special," said former Real Madrid player and double Champions League winner Michel Salgado.
"I think Atlético has a big chance of winning, even if Real Madrid is the better team," Germany's Franz Beckenbauer said.
Schalke 04 midfielder Leon Goretzka said: "I'm fortunate because I don't prefer either team, I think in every match Real Madrid play, they're the favourites."
While Domenico Criscito, Zenit St Petersburg defender said: "It is a good game, a really intense game. Atlético has always showed itself to be a great team against Real Madrid, but in my opinion, it has something extra than Atlético ."
Away from the fierce Madrid rivalry, Milan is also playing host to the 4th edition of the Football for Friendship tournament.
31 countries, including Syria, took part in this year's competition.
The aim is to foster the youth game and fairplay. The intensity to win, however, is just as great. This year's final saw Slovenia come out on top, beating Hungary 1-0.