Trump and Sanders plan TV clash
Comments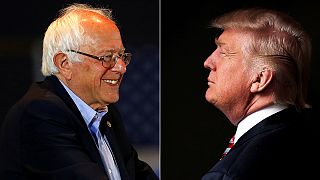 Voiced plans for a TV debate
National clash would be live
Critics say plan would sideline Clinton
The debate
Republican Donald Trump and Democrat Sanders have explored staging an unconventional US presidential debate.
Game on - I look forward to debating Donald Trump
The two men – one a billionaire tycoon, the other a democratic socialist – have voiced interest in a one-on-one encounter in California.
The challenge was launched on Twitter.
Trump, Sanders explore staging unusual presidential debate https://t.co/XV8QlQ3MMw

— Reuters Top News (@Reuters) May 27, 2016
The television spectacle could potentially attract huge ratings.
Republican and Democratic presidential candidates traditionally do not debate each other until the parties have selected their nominees.
What would Bernie Sanders gain?
Bernie Sanders has invested considerable time courting voters in delegate-rich California.
He hopes a victory, or at least a strong showing in the state, would revitalise his campaign.
A nationally-televised debate with the presumptive Republican nominee would be a big boost to his chances in the California primary on June 7.
Hillary Clinton is tipped to win the nomination.
What would Donald Trump gain?
Donald Trump says a debate with Sanders would raise up to 15 million US dollars for charity.
Trump has now got the delegates he needs to be proclaimed Republican Party candidate for the Presidential election in November.
What about Hillary?
Trump and Sanders are discussing a debate where they can ignore the woman who's beating them both https://t.co/PQgmJpu9fu

— Quartz (@qz) May 26, 2016
Why a Trump-Sanders debate would be disastrous for Hillary: https://t.co/5kQafJ8mZQpic.twitter.com/ibOeN0SQSi

— The Week (@TheWeek) May 27, 2016
A live, national TV debate between Sanders and Trump would also effectively sideline Democratic front-runner Hillary Clinton.
Despite being well in the lead for the Democratic nomination, an inquiry into her email use while secretary of state is currently overshadowing her campaign.
Clinton says she followed accepted procedure.
Follow politico</a>&#39;s delegate tracker for the latest updates <a href="https://t.co/UNv44BcOV9">https://t.co/UNv44BcOV9</a> | AP Photo <a href="https://t.co/P04gsF1siI">pic.twitter.com/P04gsF1siI</a></p>&mdash; POLITICO (politico) May 4, 2016
What they are saying
"We challenged him to a debate and we will see if he stays with it but at this point he is prepared to debate and I am very excited about it," – Bernie Sanders