Strong peaceful China vital for the world says Japan's Sone
Comments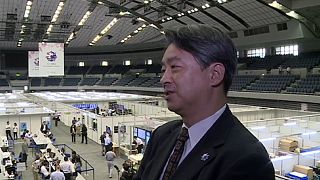 Euronews is continuing its coverage of the G7 Summit in Ise-Shima, Japan by interviewing Kenko Sone, the Director of Global Communications for Japan's often outspoken Prime Minister Shinzo Abe.
James Franey, euronews:
"There's a lot of talk at this summit about the global economy. How concerned are you about the slowdown in China?"
Kenko Sone:
"Well the economic slowdown in China, with the emerging economy in China, is very worrying and we would like to have more robust, strong and sustainable economic growth."
James Franey:
"Another topic you will be discussing is obviously the dispute with China in the south China sea. You mentioned in your previous answer how important the Chinese economy is to Japan. Why risk that with this territorial dispute? You could in effect be provoking Beijing in a way?"
Kenko Sone:
"Well I think that we are already explaining our position, that we want China to be a more responsible player or partner in the global community, and the peaceful rise of China is very important for us as well. And at the same time we would like to see a peaceful South China Sea.
And there are three principles that prime minister Abe advocated: one is 'any claim must be based on international law'; two, there must be no use of force or coercion to change the status quo; and third, is the peaceful settlement of any disputes.
I think these principles could also apply for any countries in dealing with these south China Sea issues. So I hope that China also understands the importance of peace in the South China Sea."