Protests ahead of historic Obama visit to Hiroshima
Comments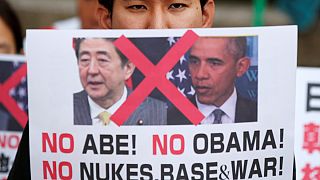 You are not welcome here in Hiroshima!
I believe he is not apologising, to leave the possibility open to use nuclear weapons in the future
That was the message from protesters on Thursday to US President Barack Obama, on the eve of his
historic visit to the Japanese city.
Obama has already said he won't apologise for the United States' dropping of an atomic bomb there at the end of the Second World War.
"Of course he won't apologise," said Yohei Sakube, a 22-year-old protester and university student.
"Because if he does, the US won't be able to use a nuclear weapon again. I believe he is not apologising, to leave the possibility open to use nuclear weapons in the future."
Should Obama apologize in Hiroshima? https://t.co/CliWAXQClupic.twitter.com/rbVQwZajnc

— The Atlantic (@TheAtlantic) 26 mai 2016
Obama won the Nobel Peace Prize in 2009 partly for making nuclear non-proliferation a centrepiece of his agenda and he has laid out the goal of a world free of nuclear weapons.
With the end of his last term in office approaching in January, the president will "highlight his continued commitment to pursuing the peace and security of a world without nuclear weapons," the White House said in a statement.
"I do think that part of the reason I'm going is because I want to once again underscore the very real risks that are out there and the sense of urgency that we all should have," Obama said on Thursday at Ise-Shima where he is attending a G7 summit.
"So it is not only a reminder of the terrible toll of World War Two and the death of innocents across continents but it is also to remind ourselves that the job is not done."
#G7 leaders gathered for a "family photo" following their 1st working session at the #IseShima Summit. #ObamainJapanpic.twitter.com/ksYfrorGXI

— 在日米国大使館 (@usembassytokyo) 26 mai 2016
The world's first atomic bombing, on Hiroshima, on August 6, 1945, killed thousands instantly and about 140,000 by the end of the year.
About 27,000 people were killed instantly in Nagasaki and about 70,000 by the end of the year.
Nagasaki was hit on Aug. 9 and Japan surrendered six days later.
The Hiroshima tour is aimed at symbolising a new level of reconciliation between the former wartime enemies who are now close allies.
Obama, who will be the first incumbent US leader to visit Hiroshima, will be accompanied by Japanese Prime Minister Shinzo Abe.