Iraq: Progress in fight to oust ISIL from Falluja but 'civilians face starvation'
Comments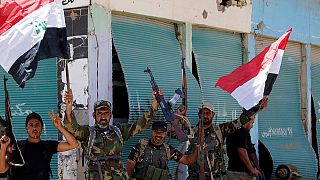 Amid fierce fighting on the road to Falluja, Iraqi forces and allied militiamen closed in on the ISIL stronghold on Thursday.
But alarming new reports emerged about the desperate plight of civilians trapped there.
Celebrating the liberation of nearby Karma – a key supply line for ISIL – Iraqi forces were congratulated by their Prime Minister, Haider al-Abadi.
Abadi also appealed for an end to public protests against his government until Falluja has been recaptured from the extremists who have held it for over two years.
He insisted the main purpose of the military operation is to protect Falluja's residents from terrorism, murder and torture carried out by the so-called Islamic State group, also known as Daesh.
The offensive began on Monday and, as the battle rages, some 50,000 civilians are said to be trapped there, without water, electricity or fuel.
The few who have managed to flee have reported cases of starvation, according to one NGO, the Norwegian Refugee Council.
The NRC, which assists refugees at a camp south of Falluja, said the fighting made it difficult to assess the full extent of 'the dire situation in the city'.
One woman told the NRC her family had lived on dry dates and drank from the Euphrates River before escaping Falluja.
"If they stay in Falluja, they face possible starvation. If they try to escape, they risk being killed getting out," NRC media coordinator Becky Bakr Abdulla said in a report, citing refugee accounts.
NRC teams are working around the clock giving families fleeing #Fallujah food, water & hygiene kits pic.twitter.com/vbsyYOb3TW

— NRC (@NRC_Norway) 26 mai 2016
Fighting intensifies with no safe routes out of #Fallujah for the trapped civilians. Only few has escaped. pic.twitter.com/QmQV0xkokp

— NRC (@NRC_Norway) 26 mai 2016
The final push to liberate Falluja is perilous. Roadside bombs and booby traps laid by ISIL have already had to be cleared. Many more are expected.
The offensive is part of a government campaign to roll back ISIL's seizure of wide tracts of northern and western Iraq.
Iraqi forces retook Ramadi, the Anbar provincial capital near Falluja, in December but have not yet tackled a bigger challenge – ISIL-held Mosul, Iraq's largest northern city.