Iraqi forces say they will retake Falluja from ISIL 'soon'
Comments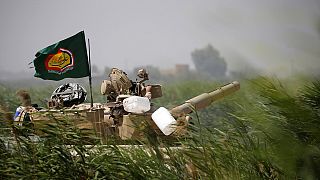 Iraqi forces and allied militiamen are tightening the noose around the ISIL stronghold of Falluja.
We believe we will soon recapture Falluja

Iraqi army commander
The battle began on Monday to retake the city, the first in Iraq to be seized by the extremists in January 2014.
Boosted by the recapture of parts of nearby Karma, a key supply line for ISIL, government troops say they are now poised to finish the job.
"We retook this area two days ago, then we pushed ahead and arrived in Karma," said Samir Mohammed, a commander with the Iraqi rapid reaction forces, part of the Iraqi army.
"There were concrete walls built by the extremists. We broke them down and drove the enemy out. They are now using rocket shells and snipers to resist our advance but we believe we will soon recapture Falluja."
The final push however is perilous. Roadside bombs and booby traps laid by ISIL have already had to be cleared. Many more are expected.
And some 50,000 civilians are thought to be trapped in Falluja. The fear is that jihadists will use them as human shields, amid reports of a budding humanitarian crisis in the city.
The offensive is part of a government campaign to roll back ISIL's seizure of wide tracts of northern and western Iraq.
Iraqi forces retook Ramadi, the Anbar provincial capital near Falluja, in December but have not yet tackled a bigger challenge – ISIL-held Mosul, Iraq's largest northern city.
To beat IS in Mosul, strategic victory is first needed in Fallujah #econarchivehttps://t.co/EbJ3HCrhl2pic.twitter.com/xNFSbbwo0Q

— The Economist (@TheEconomist) 26 mai 2016