Greek police clear Idomeni camp
Comments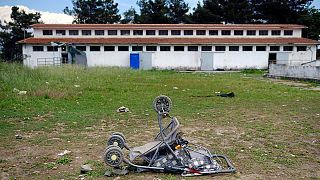 There is little remaining of what had been a temporary home for thousands of migrants. Greek police have completed the clearance of the Idomeni camp and many residents, mostly Syrians, Iraqis and Afghans have been moved to official refugee centres near Thessaloniki.
Authorities have also cleared a railway line linking Greece with the Former Yugoslav Republic of Macedonia, which for months had been blocked by people protesting to be allowed passage to Northern Europe.
The camp sprung up four months ago and human rights groups warned about the deteriorating conditions due to overcrowding, poor sanitation and the risk of infection. Children slept in the open air, violence broke out over food rations and Macedonian security forces tear-gassed those who attempted to pass the razor-wire border fence.
"People want a better future, nobody wants to stay in the mud, everybody wants to create a new home, so many people see it very positively, that it is a step forward for a better future , but what people keep saying is that they don't want to move to another camp, they want to start their lives from scratch, they want to start building a home again, so camps are not home for people, they are just a temporary solution," explained Medecins Sans Frontieres spokesperson Vicky Markolefa.
Since the Balkan route was cut off, tens of thousands of migrants were stranded in overcrowded camps in Greece.
Activists say only a fraction of Idomeni residents had accepted to be re-housed in official camps. Some are waiting for the Macedonian border to reopen, while others are taking their chances with people smugglers.
#Idomeni is over but the misery of those who lived there has merely been displaced. What will their future hold?https://t.co/2dH6ka9A3u

—

MSF

Sea (@MSF_Sea) May 26, 2016