US comedian Bill Cosby ordered to stand trial for sexual assault
Comments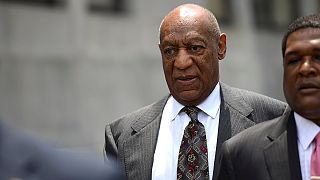 Bill Cosby has been ordered by a US court to stand trial on sexual assault charges, over allegations that he drugged and molested a woman 12 years ago.
The 78-year-old American entertainer attended a preliminary hearing in Pennsylvania.
The case was reopened after more than 40 women came forward with similar accusations.
Andrea Constand who now lives in Canada and was not in court, complained to police in 2005 that Cosby assaulted her after giving her pills.
"The point of this is that it was intoxicating to her, and she was unable to consent. That's the crime, that's the charges that were bound over. And we look forward to handling this in court," Montgomery County District Attorney Kevin Steele told reporters outside the court.
In a statement read earlier in court, Cosby said the woman had never told him to stop during the encounter.
No date has been set for the trial.
In most other cases too much time has elapsed for charges to be pursued, but Cosby is facing civil lawsuits in some states.
Known to millions as "America's Dad" over his role in the 1980s sitcom "The Cosby Show", the comedian has denied assaulting anyone.