NBA: Raptors claw their way back into Eastern Conference final
Comments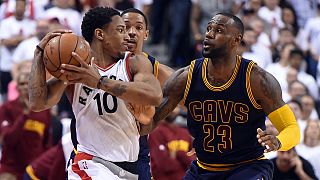 The Toronto Raptors levelled their Eastern Conference final with the Cleveland Cavaliers at two games.
On home court at the Air Canada Centre the Raptors took control of Game four and at one point were leading by as many as 18 points.
The first half was dominated by the home side and despite a late surge by the Cavs in the fourth quarter the Raptors held on to square the best of seven series.
Having suffered heavy losses in games one and two the Raptors are now firmly back in contention in their first conference final appearance.
Kyle Lowry and DeMar DeRozan were the Raptors danger men.
Lowry scored a game high 35 points while DeRozan added 32 to the tally as the Canadian franchise won through 105-99.
On the other side of the court LeBron James scored 29 points and Kyrie Irving had 26 for the Cavaliers, who are hunting a second straight Finals after losing to the Golden State Warriors in last year's championship game.
Game 5 is on Wednesday night in Cleveland.