Iraqi offensive in Fallujah causing concern over civilian safety, says UN
Comments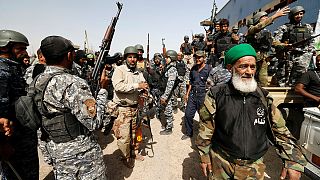 Iraqi forces have begun shelling ISIL targets as the fight for Fallujah rages through a second day.
At least eight civilians and three militants have been killed so far, according to a local hospital.
"ISIL tried to hide in some civilian areas and some civilians were either martyred or wounded. We tried to distance some families, but ISIL is using them as human shields. We have opened several routes towards Falahat and the Salam centre, and Bou Assi and Amiryeh to give shelter to the displaced," Anbar Council member Raje Barakat said.
The city was the first to fall to the militant group, more than two years ago.
Situated around 60 kilometres west of Baghdad, Fallujah has long been considered a hub for extremists and rebels. Its proximity to the capital, recent bombings and growing pressure from Shi'ite militia forces in the area are thought to have triggered the army operation.
Shi'ite militias may be restricted to the outskirts of the city, officials say, to avoid tension with the city's predominantly Sunni Muslim residents.
As the offensive began, the United Nations expressed concern for the estimated 50,000 civilians remaining in the area.
"We're very concerned about the fate of the civilians that remain in Falluja as the military operations are undertaken.
"The humanitarian situation obviously remains very fluid," UN spokesman Stephane Dujarric told reporters.
Ahead of the offensive, Prime Minister Haider al-Abadi had called on civilians to flee the militant stronghold and warned the military to protect those remaining.
The fight for Fallujah is a detour from the plan of Western forces, which are working towards all but recapturing the northern oil city of Mosul by the end of 2016.