French fuel strike: frustration at the pumps and an investment warning
Comments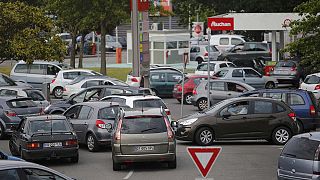 With long lines of motorists panic-buying and fuel rationing in places, Patrick Pouyanne, the boss of French energy firm Total warned it will "seriously reconsider" its future investment plans in France due to the strikes at its refineries against labour law reform.
I understand why they must go on strike, and why we must respect it. But for people who work, it is not practical
Total owns five of France's oil refineries.
"If our colleagues want to take an industrial asset hostage for a cause that is foreign to the company, you have to ask whether that is where we should invest," Pouyanne said.
Le PDG de #Total#PatrickPouyanné se livre à un abject chantage à l'emploi. Honte à lui. https://t.co/ET5dE1Ns4U#JeSoutiensLaGreve

— poxxk (@poxxk) May 24, 2016
Frustration
At the filling stations there is mounting frustration.
One motorist who had waited for two hours vented: "There is no petrol anywhere. I feel upset because we seem to be have been taken hostage by this strike, which has quickly spread. So yes I am upset. But then I understand, I understand why they must go on strike, and why we must respect it. But for people who work, it is not practical."
In Paris a motorcyclist explained it had taken him a long time to be able to fill his tank: "It's hard, very hard. There are queues at all the petrol stations and it is really complicated to get to work, I had to wait for half an hour."
The Transport Ministry calculated that one in five service stations has empty tanks or is running low as one driver in the capital found. He said: "I went to five petrol stations on the outskirts of town at 5.00, 5.30 this morning and I couldn't find any. But then as I'm working at a building site just nearby, I stopped here and they had some."
Cross border quest
Drivers who could took their search for fuel across the border, heading into Belgium where refineries are working normally.
Cars with French number plates were prominent in the queues that formed at Belgian service stations just across from northwest France where the industrial action started and which among the regions worst hit.
The trade body representing the Belgian fuel merchants said sales had increased fivefold since the end of last week.